As you probably are already aware, there are a number of different ways to grow your Instagram profile these days. You can do everything yourself and continue to try to be successful with manual growth.
However, while this might have worked for you in the past, it's not as effective anymore, and this is due to the sheer number of people using Instagram to achieve similar goals.
There's probably nothing wrong with the quality of your content, you just aren't getting it in front of the right people. This is where an Instagram automation tool comes in.
You know all the influencers that you look up to on Instagram and follow?
The majority of them will be using an Instagram automation tool.
It's common practice these days, but if you want to open yourself up to the world of Instagram automation, there are definitely a few things you need to know about it.
In this article, we discuss the different types of automation, as well as what you need to look for in the right company. We will go through what Instagram automation actually is, and how to stay within Instagram's terms and conditions.
But first, let's take a look at the best Instagram automation tools in the industry right now so that you can preserve your existing reputation, and really take care of your profile's growth this year. Let's dive in.
Best Instagram Automation Tools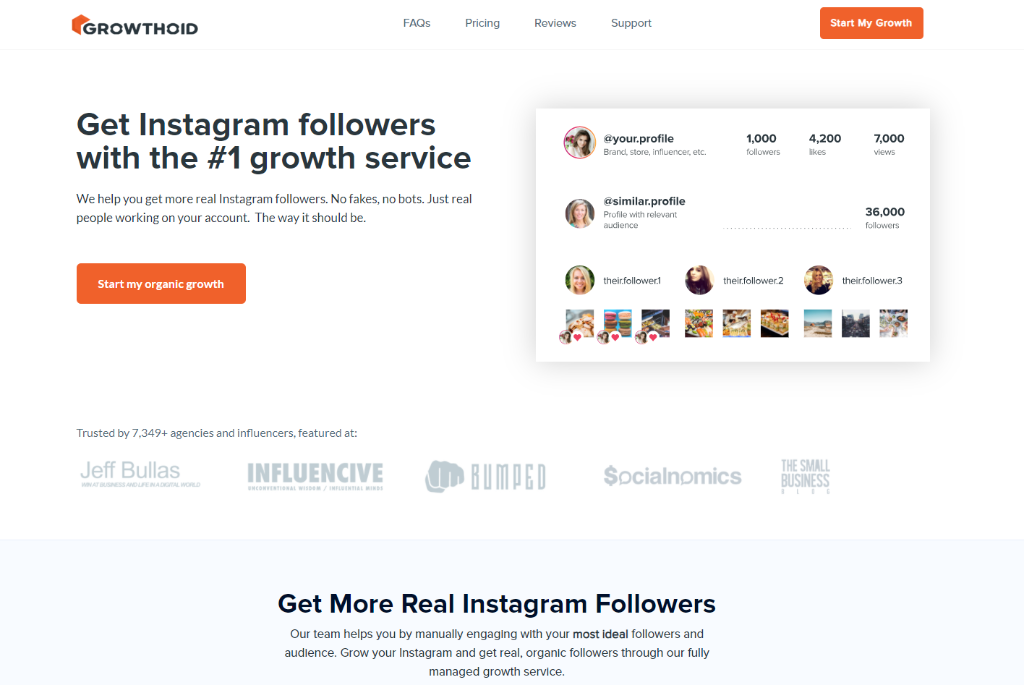 Growthoid is number one on our list for a reason; because we truly believe that they are one of the best Instagram automation tools in the industry right now.
They might not have been around for as long as some of the other companies out there, but what they lack in experience they certainly make up for in expertise and quality when it comes to their features.
One of the things that we appreciate the most about these guys is that they know what their clients need, and they aren't prepared to compromise when it comes to this.
They say they can help their clients get more real Instagram followers, and they don't spend any time on bots or fake profiles. Their automation has real people executing it, and they believe that this is the way it should be.
We love that they have a unique way of helping their clients build and develop their Instagram profiles, in the form of targeting their competition's audiences. When you first sign up with them, they will ask you for a little bit of information about your competition, and what their audiences look like.
From here, they will start to target them and encourage them to come and check out your content instead.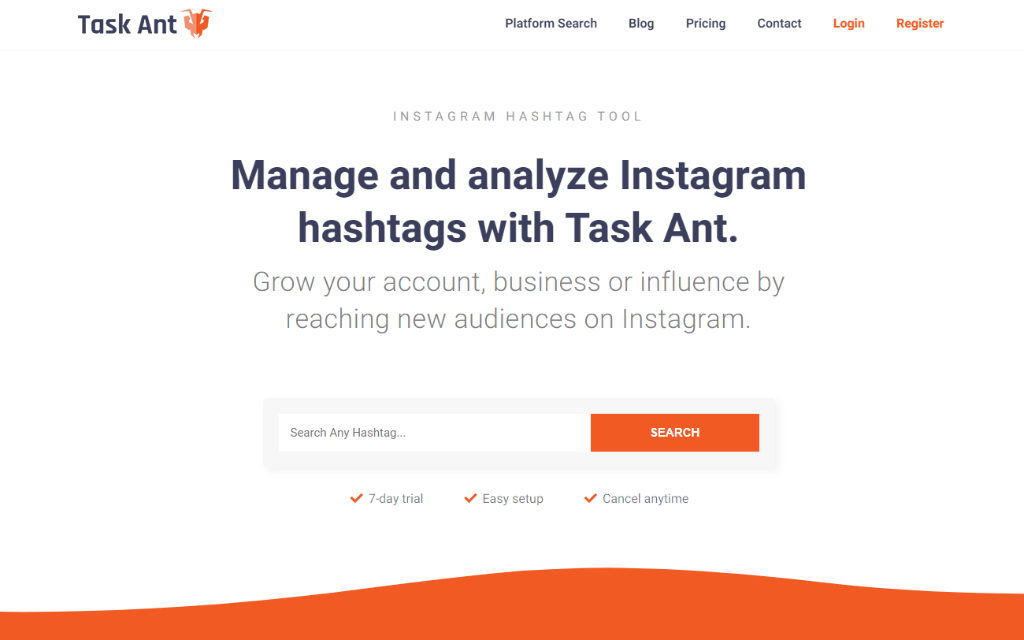 Task Ant is one of our favorites, mainly because they cover literally everything and anything you need for your Instagram growth. This is why they of course implement a high-quality tool, but they also have a hashtag generator.
This means that you don't have to neglect the hashtag side of things, and you can grow your Instagram profile in a way that is effective, clever, and efficient. When you visit their website, their hashtag generator is one of the first things you will see.
And all you have to do is enter a keyword to receive multiple options when it comes to the kinds of hashtags you might want to use on your content. We love that these guys go beyond just helping you with your hashtags; they actually help you organize them into sets.
This way, you can use your hashtag strategy to your advantage, and diversify the tags, so that you're not using the same ones on every post. This is key to being really successful on Instagram and cultivating a sustainable feed that is going to be interesting for a long time.
Morelikes knows that one of the most effective and reliable ways to automate your Instagram growth is to automate your Instagram likes. We will talk about this a little bit more in-depth down below, but for now, let's focus on the fact that they highlight this feature on their website.
They say they can help their clients buy automatic Instagram likes, and not only do they want this to be an effective way for their clients to grow their profiles, but they want to be able to save them time.
This is why they have a feature where they can detect when you have uploaded a new image or video to your Instagram feed, and as soon as they do, they will send you the appropriate number of likes.
Not only is this going to make your content do really well, but it's going to mean that you don't even have to think about your engagement when you upload your post.
A lot of other companies in this industry will get you to sign in to their dashboard every time you upload an image, and manually send yourself the engagement that you need.
However, with this Instagram automation tool, it's all on autopilot, so that you can get back to creating more quality content faster.
Growthsilo is a real and authentic Instagram automation tool that can help you grow your Instagram audience with relevant, real followers. They are another company on this list that sees the merit in staying well away from fake profiles, and they say that their manual growth is completely managed for you so that you don't even have to think about it.
To start your organic growth with them, all you need to do is enter your email address, and they will go from here. They say that their clients have two plans to choose from, 'accelerate' and 'launch', and once you have chosen the right one for you, they will start your growth campaign.
Not only does this allow you to receive efficient growth for your Instagram profile, but it allows you to have complete control over how they grow it.
Of course, just like all the other reputable, reliable companies we have talked about so far, Growthsilo assigns an account manager to each client, who asks for detailed targets around your Instagram profile so that they can engage with the right people for your content.
Grablikes operates in a similar fashion to Morelikes, which we think is a really good thing.
In fact, we don't think that there are enough Instagram automation tools out there that are making the most of this automatic detection system, and hope that more of them pop up in the future.
Of course, this means it they can help you manage your Instagram growth campaigns from the very beginning, and you don't have to worry about logging into their dashboard every time you upload a video or image to your feed.
They will simply send you the engagement that you need, and you can go from here.
UseViral has a really good handle on how they help their clients, and what they do for them in the industry, which we think is a great model for what other companies need to do.
They have done this because they have worked in the industry for a long time, and over that time they have managed to grow a vast network that comprises professionals in all kinds of different industries and niches.
This means that you can get in touch with people who are relevant to your content, and these people in turn can promote your content on other social media sites out there. We talk a little bit about cross-promotion down below, because we see that there is a lot of merit in this approach to your Instagram profile's growth.
If you want your content to do really well, you've got to spread the love, and show it to people on other social networks as well. However, you probably don't have the time to do this. This is where automation tools like UseViral come in handy.
The best part is that they can help you with the rest of your social networks as well, including TikTok, Twitch, and LinkedIn. They also say that their support goes above and beyond for their clients, in the way that they research your profile to help find relevant users to like and follow your content.
Nitreo is another company that has been in this business for a little while, and they are at a point now where they can give their clients everything they need to do really well with their Instagram accounts.
They say that like most of the other companies on this list, they stay well away from fake profiles and bots, so that they are just promoting your content with real people. All they need from you to get started is your email address, and you can get real, effective growth that is going to sustain your profile for a long time.
Organic is the keyword here, and Nitreo will stick to this for as long as it takes to turn your Instagram profile into something worthwhile.
We appreciate that they have a really good customer support team that can be there for you whenever you need them, and we also love that they are committed to keeping their pricing really reasonable for their clients.
Kicksta
Kicksta says that they have a really simple approach for their clients when it comes to growing their Instagram profile. They don't use bots, and they don't use fake followers.
They also don't use spam; they just use an automation tool that is going to produce pure organic growth for you, using their advanced software. One of the first things they will do for you is, find profiles that are similar to yours, and then they will automatically engage with their followers.
Lastly, as a result of this, you will get followed back, which is going to allow you to do really well and help grow your profile for a long time. We believe that this is much better than buying your engagement because you get authentic and meaningful results from it.
Stellation Media is a fan favorite in the Instagram automation tool industry, because they have spent many years working on their Instagram promotion services, and they believe that they are in a really good place now to help their clients no matter what you need.
They say that they provide their clients with a new wave of growth, which includes their mass story engaging, so that you can view more than 400,000 Instagram stories every day on your profile.
They also say that everything is completely automated, and you can target followers and gain exposure. The best part is that you don't need any prior technical knowledge, and you can get in touch with them whenever you need to through their email and live chat support.
Upleap is the kind of automation tool for Instagram that has kept things nice and simple for their clients because they know that if they put more quality into their features, you are more likely to do well in the long run.
This is why they haven't put a lot of time into their website, because they know that their efforts are better spent on their features. They say that they can connect each and every one of their clients with a dedicated account manager, who you can talk to every day about what you think is best for your Instagram profile.
Of course, like every other automation tool on this list, they don't mess around with fake accounts, and they don't use Instagram bots to grow your Instagram profile. They simply want to help you get authentic, genuine engagement, that's going to last you for a long time.
The setup process is super easy, and they say that their existing clients have experienced up to 300% faster growth with their Instagram profiles.
What Are Instagram Automation Tools?
Automation tools for Instagram automate your engagement. Instagram automation tools can help you target accounts to follow, follow and unfollow accounts, like other Instagram user's posts, like your own posts, schedule your posts for a future date, and find hashtags that are going to be relevant to your content.
They can also help you create comments, send direct messages to people who have just followed you, and answer polls and Instagram stories. Lastly, Instagram tools can help attract followers to your profile, so that you expand your account's reach.
Some companies power their service with real people, whereas others power them with artificial intelligence. Either way, one of the most important things to look for in a tool is that they are providing their clients with organic growth.
This means that new profiles are going to follow your account that belongs to real people who are genuinely interested in your content. If you are working with a company that is providing its clients with authentic growth, then it is going to suggest your page to targeted profiles.
It is also going to follow targeted profiles, with the hope that they return the favor. A legit tool that wants to grow your account organically will share your posts, Instagram stories, and page with a dedicated network of followers who are in your industry and niche.
Lastly, they will work to include your brand and influencer giveaway programs, and partnerships with celebrities.
So, what is the alternative to this? The alternative to using an automation tool like this is to get your followers, views and likes for your content through fake profiles that have been created entirely for this reason.
Approaching it this way is a direct violation of Instagram's terms and conditions and can therefore get your account suspended or banned.
When you take this kind of approach to your Instagram growth, not only is it safer, but it is more effective in the long run. It ensures that people follow your account when they are actually interested in your content, as opposed to just doing it automatically.
When people sincerely enjoy your posts, they will be much more likely to share them with their friends, save them to their Instagram collections, like, and comment. More importantly, they are more likely to continue to do this over time, while also investing their money into your product or service.
Best Practices for Using Automation Tools
If you are going to use an Instagram automation tool to bolster your growth, then you might be tempted to do it as quickly as possible. However, we instead recommend that you take the slow and steady approach.
Going from a little bit of engagement to a huge amount of engagement is definitely a red flag in Instagram's eyes. Another warning sign can be repeating the same comment across multiple Instagram accounts, spamming direct messages into people's inboxes, and making comments that don't really fit with the context of the content.
If Instagram thinks that you are implementing this kind of activity to grow your Instagram profile, there's a good chance that they will suspend or ban it. However, there are ways to grow your Instagram profile automatically and get around these restrictions, so that you can do well in the long run.
Keep your settings realistic: If you have ended up using a tool that's gotten you in trouble, the first thing to do is just to stay calm. Typically, bans come with plenty of warning first, and generally speaking they last from just one day to a week. If you have been given a warning by Instagram, then we suggest that you immediately adjust your Instagram automation tool settings, so that you reduce the number of engagements you are doing on a daily basis. You can also avoid getting a warning from Instagram by starting with a slow rate of growth and working your way up as your account becomes more successful. Instagram uses an algorithm to work out who is spending too much time on the platform, and experience will tell you that more established accounts usually get more of a warning when it comes to their daily activity limits.
We think that as a general rule, try not to follow more than 13 people every hour, and try not to follow more than 150 new followers every day.
When it comes to likes, try not to like more than 400 posts every day, and try to keep your comments to a maximum of four per hour. In terms of direct messages, try not to send more than 10 an hour.
Of course, everyone's situation is unique on Instagram, which is why you can make the most of your Instagram business page and study your analytics to give your profile an edge.
Turn off automated DMs and comments: Imagine Instagram content with tons of authentic engagement. Somewhere in that long list of comments, there are going to be a few that sound like spam or might not have anything to do with the content itself. You might also come across comments that are vague, and generic, and don't really add to the content's validity. Another sign that someone's engagement is completely automated is when short, enthusiastic comments come up in response to serious posts that are asking for a very different kind of reaction. So, if you want to make sure that Instagram isn't going to shut you down, you need to adjust your automation settings so that you stick to follows and likes only. Unless you've got the time to customize your comments, we don't recommend that you implement this into the automation filter.
Continue to create amazing content: Just because you've started to do really well on Instagram doesn't mean that you can skimp on the quality of your content. When it comes to being successful on the popular social media sharing app, content is king. This means that no amount of automation is going to help if your content isn't high quality. High-quality Instagram content needs to invoke strong emotions with the viewer. It's helpful if your post relates to personal relationships and actions that people are passionate about. The more relatable and high-quality your content is, the more people are likely to engage with it. We also recommend that you make the most of Instagram's posting options. The best part about Instagram is that you can post a singular image, more than one image at the same time, or even a video. You can even live stream, which means that you can share a little bit of the behind-the-scenes with your audience. You can also save some of your stories and include them in your highlight reels that you will see at the top of your Instagram feed. We recommend that you change your highlight reel now and then, to switch things up, and keep your profile interesting. Cross-promoting your content is also beneficial. You will also want to use stories, posts, and highlights to promote your live streams. There are a lot of automation tools for Instagram out there, including some of the ones that we've talked about on the list above, that can help you with scheduling, hashtag selection, and post planning. We highly suggest that you make the most of this.
Give it some time: Yes, we all want to do well on Instagram overnight, but even if you're not this keen, the majority of us still want to do really well in a really short amount of time. The reality is that there are some automation tools for Instagram out there that act quickly. However, we believe that the decision to grow your followers on Instagram involves a long-term commitment. So, even if you don't see changes straight away, we encourage you to hang in there and keep creating quality content. You also need to keep posting consistently and give yourself at least a month or two to see whether your Instagram profile does better or not. There are a lot of people out there that invest in automation tools for Instagram because they have hit a wall trying to maintain it manually. However, the companies that we recommend on the list above provide more than just temporary relief. They have the potential to change your content strategy for the better and set it up so that it can sustain your Instagram profile for a long time. If you let these Instagram automation tools do their thing, and give them a bit of time, then you will soon be able to see unprecedented success on your profile.
Frontend and Backend Automation
You might not be aware of this, but there are two different types of Instagram automation: frontend automation, and backend. Frontend automation is all of the things that your audience will see upfront, including direct messages, follows, comments, and likes.
This is where it can make all the difference when it comes to how your Instagram automation tool is working. If the content looks like it's automated, or spammy, then it is highly likely to be reported or flagged.
Backend automation is generally not seen by users and takes control of things like hashtag generation, content posting, analytics, and scheduling. It's important to see the difference between these two types of automation because a lot of the backend automation services are directed and set up by you.
When you schedule your Instagram posts in advance, this is completely legitimate, and the majority of social media experts out there will recommend that you do this to save time. Additionally, analyzing your content's performance, as well as business insights on your business page as vital to see what's working and what's not for your page.
Lastly, you want to find the right hashtags that are going to benefit your profile's growth, so that you find the right people to interact with. Backend automation isn't going to put your profile at risk of being suspended or banned.
Can I Safely Use Instagram Automation?
So, as you might have been able to gather at this point, we think that some Instagram automation is low risk, and some is high risk. We think that automating your likes is low risk, and in fact, we believe that it is one of the lowest risk automation features you can include in your Instagram growth.
This is because it doesn't require any personalization and is simply a button that can be viewed by the user. You just need to make sure that your profile is well-developed, and your content is high-quality so that people are likely to follow you when they visit your profile.
As we mentioned above, automating your comments is high-risk, and we don't really recommend that you do it. Again, it's really obvious when someone has left a spammy comment on a piece of content, so it's truly not worth the risk. It's much better to come up with your own comments and wait for people who are genuinely interested in your content to comment on it themselves.
Similarly, we believe that automating your direct messages is high-risk as well, and we generally don't recommend it. Automating your story views is low risk, and automating your content posting is low risk, as this fits into the backend side of Instagram.
Final Thoughts
We hope at this point that you have a much clearer idea of what Instagram automation is, and what kind of engagement can be automated, as well as the potential risks of automating these particular features.
We've also included some things to keep an eye out for when looking for the right automation tool, so that you can use it as an alternative to bots and keep your growth nice and organic.
When thinking about the right Instagram automation tool for your profile, the main thing you need to remember is that saving time is a good thing. However, if saving time is going to cost your existing Instagram reputation, then it simply isn't worth it.
If you are using an automation tool that is going to speed up your engagement, and potentially push you above the limit, then you are going to compromise the effectiveness of your content, and not as many people are going to see it who are genuinely going to be interested in it.
With this in mind, we suggest that you stick to the companies we have talked about on the list above and remember that there are many elements to Instagram automation that you need to take into account when deciding how to grow your Instagram profile. Good luck!
This is a Contributor Post. Opinions expressed here are opinions of the Contributor. Influencive does not endorse or review brands mentioned; does not and cannot investigate relationships with brands, products, and people mentioned and is up to the Contributor to disclose. Contributors, amongst other accounts and articles may be professional fee-based.