Back in December, we covered the storytelling NFT project, 10KTF, in the feature "How To Get Exposure To Yuga Labs Without Breaking The Bank." That article served as an introduction to 10KTF, highlighting the origins of how it began and their journey to eventually becoming part of the Yuga Labs ecosystem.
At the time of publication, the floor on the 10KTF main collection was 0.3 ETH, and at the time of writing now, the floor sits at 0.305 ETH – so not a lot of difference there. However, there are two assets within the 10KTF collection which have seen a huge rise in price – G-Tags and Kagami's. What are these assets and why the sudden interest in them? Let's take a look.
What are G-Tags?
G Tags were revealed to be the mysterious "Item #13" in the 10KTF Stockroom collection. Holders of 10KTF Genesis items (assets which were created very early on in the project) are able to claim G-Tags by burning their Genesis shoes and bags.
Once this burning mechanism was revealed, many were reluctant to go ahead and do so as it has always been said that "Genesis is King." Why would one burn the proclaimed top asset in the 10KTF ecosystem for an unknown gamble?
Burn King For PFP
The first clue that something was coming was on the first anniversary of 10KTF, with an image to close out the season showing a card, a candle and some happy birthday decorations. While this looked like nothing at first, 10KTF is notorious for leaving cryptic clues in their content, and the 10KTF community is even more notorious for finding clues in everything posted.
3/ Months ago, for the 1 year anniversary of @10KTFshop this image was posted, which has been broken down to reveal, "we all 🔥 King 4 PFP". Since then, it's generally been thought that we would burn our genesis items at some point for a PFP, but there are 2 problems to solve. pic.twitter.com/7YkpwAn4zJ

— CaptainTrippy.eth 🍌 (@CapetainTrippy) December 25, 2022
Fast forward some time later, G Tags were formally introduced but with no explanation as to what their function is. Interest in the mysterious asset was stable, but began to wane. On 2/2, eagle-eyed residents of New Tokyo spotted another huge clue which, for many, cemented the previous suspicion that a PFP was on the way.
"Burn King For PFP" appears in a small, seemingly insignificant poster when the contrast of the image was adjusted. A buying frenzy of G Tags ensued, pushing the price of each one up to 0.6-0.7 ETH to begin with, and then right up to 1-1.3 ETH after, where it has mostly stabilized there since.
Why is this such a huge deal?
As much as 10KTF has a lot going for it, there's been a few dynamics which have potentially held it back from garnering more love than it has so far. The first issue is the oversaturated supply of assets (around 50K+ at last count), another is the complicated mechanics of the project, and the third is there's no real PFP for the collection.
While the complicated mechanics of the project remain very much complicated with the introduction of G Tags – and some would argue that's part of the projects appeal – G Tags do solve in part the other issues listed there. The quantity of G Tags accrued by Genesis burners are determined according to the rarity of the Genesis asset. So, burning Genesis items will reduce the overall supply of the collection, and as mentioned although not officially confirmed, PFPs may be on the way.
1 Common Genesis > 1 G Tag

1 Uncommon Genesis > 3 G Tags

1 Rare Genesis > 9 G Tags

1 Epic Genesis > 27 G Tags
What Are Kagamis?
Kagamis are a collection of 893 NFTs which were redeemable for a physical piece of the 10KTF story. Like almost everything in 10KTF, full details are sparse on the meaning, utility and future use case for the asset, and speculation has been running wild trying to get to the bottom of it.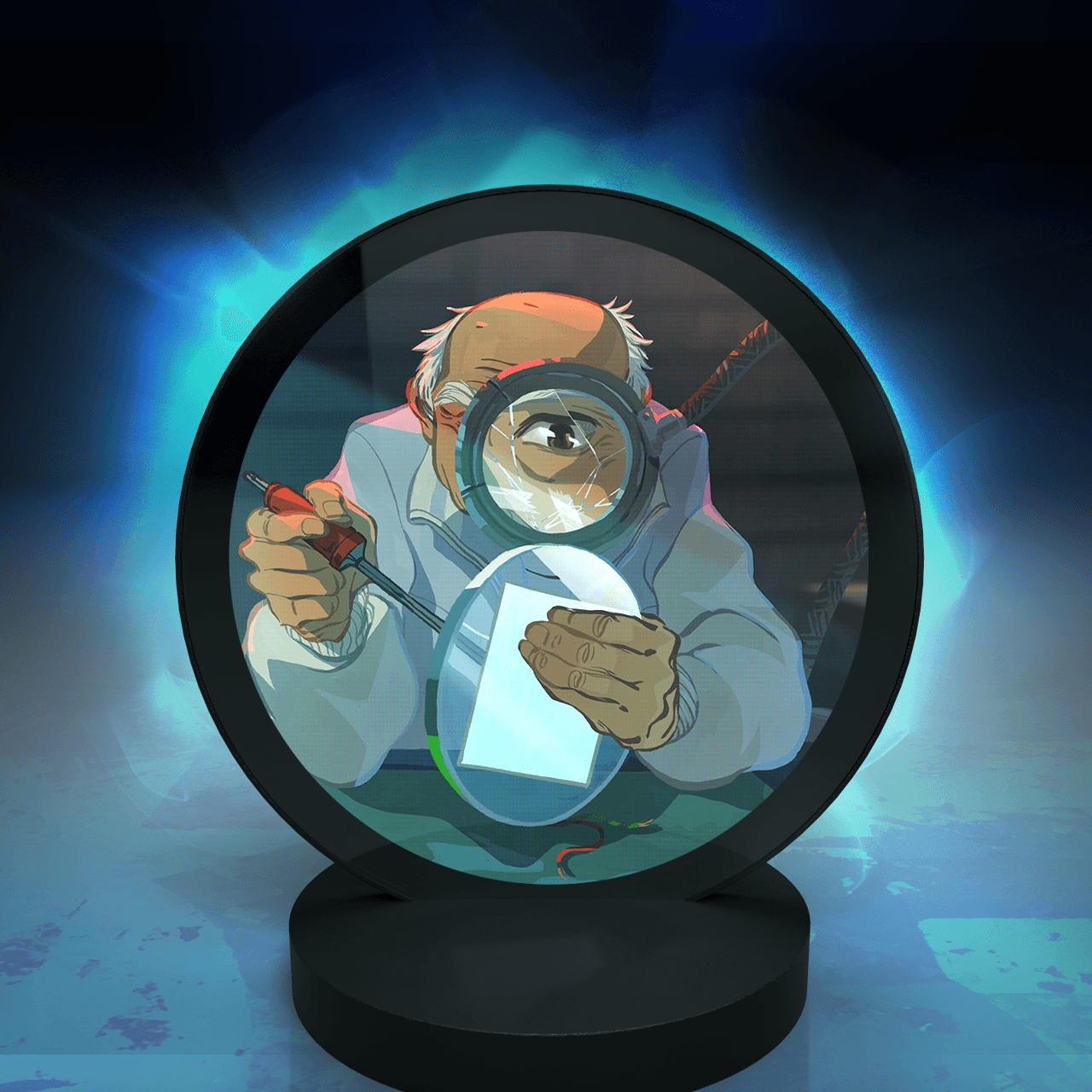 Just Art? Or Something Else?
The Shopkeepers in the 10KTF Discord have always maintained that Kagamis are purely art. It's rare that team members will be so straightforward about explaining what something means in 10KTF…..and so naturally absolutely nobody believed them.
Interestingly, Kagamis are filed under the PFP category on Opensea, leading to much thought as to whether they too will eventually become a Yuga PFP. The physical incarnations of the Kagamis were recently delivered, and some who received theirs have said they believe the path forward for the dynamic token is not as simple as what is being made out to be:
This is what is for sure: Beeple, Co-Founder of 10KTF and recently appointed advisor for Yuga, announced that invitations to the grand opening of Beeple Studios were on offer, but only for Kagami holders. Is this what the team meant when they said Kagamis were art?
What's Next For 10KTF?
Specifically, there's no real way of telling. What we do know is 10KTF is likely to feature in the ongoing story unfolding with Otherside and The Trial of Jimmy the Monkey.
Despite the recent attention, 10KTF does still seem to be a sleeper project not quite on the radar of the masses. As the Yuga stories continue in 2023 with both worlds potentially colliding at some stage, it's only a matter of time until 10KTF imposes itself on the market in a big way.
Twitter: https://twitter.com/10KTFshop
Discord: https://discord.gg/10ktfshop
This is a Contributor Post. Opinions expressed here are opinions of the Contributor. Influencive does not endorse or review brands mentioned; does not and cannot investigate relationships with brands, products, and people mentioned and is up to the Contributor to disclose. Contributors, amongst other accounts and articles may be professional fee-based.