Instagram bots have been around for a long time now. Back in the day, they had a bit of a bad rap, mainly because the majority of them continually went outside of Instagram's terms and conditions, and Instagram started to take legal action as a result.
Personally, we think that this is fair enough, but the trouble is that we also know there are plenty of legit Instagram bot companies out there that are taking a hit as a result.
One of the biggest challenges these days is to work out which companies that offer bots to their clients are legit, and which ones aren't, which is why it's worth reading articles like the one below.
In this article, we are going to discuss why Instagram bots still work, and what Instagram is doing to mitigate those that go outside of the daily limits.
But before this, we're going to talk a little bit about the best Instagram bots that can keep your Instagram profile safe and ensure that you have a good experience on the popular social media sharing app overall. Let's dive in.
Best Instagram Bots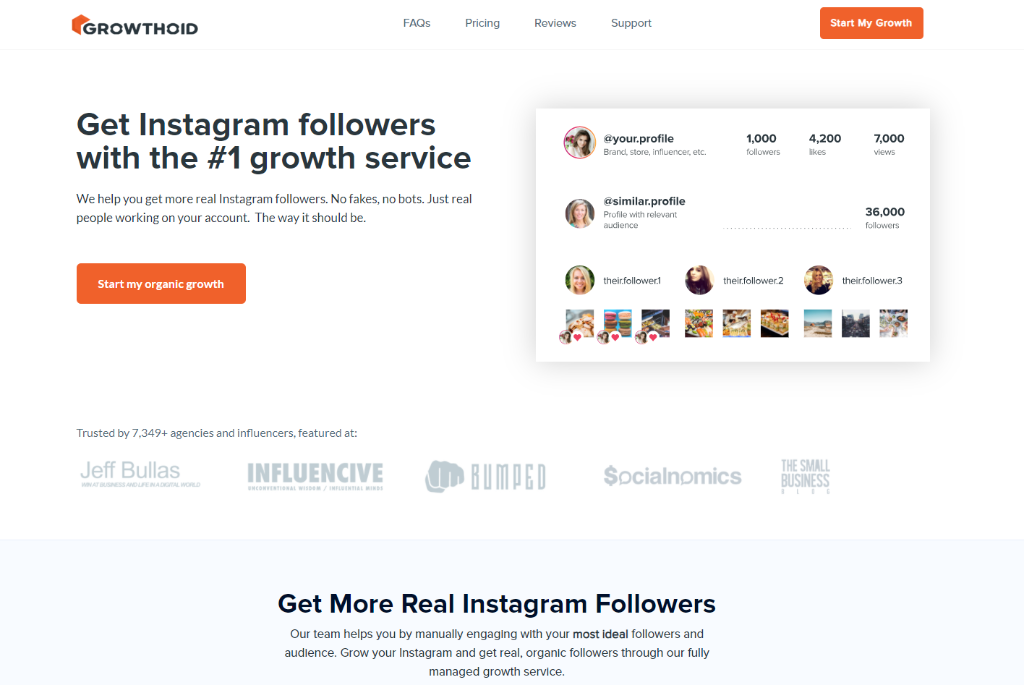 Growthoid is an Instagram bot that says it can help its clients get more of the right Instagram followers with their number one growth service. They say that their Instagram bot has an overall goal of helping their clients get more real Instagram followers, which means that they don't mess around with fake profiles.
They believe that their Instagram bot is designed to get real people working on your account, and they believe that this is the way it should be. We like that these guys have a unique approach to your Instagram growth, through targeted filters.
They target the audiences of your direct competition, so that you can beat them in the Instagram game in general and encourage their audience to check out your Instagram feed instead.
We think that this is a unique, clever, and effective approach, that is going to keep you well within Instagram's daily limits and allow you to grow your Instagram profile in good time.
Growthsilo is an Instagram bot and completely managed service, which means that you are left to focus on the content creation side of things. They want to be able to cover all those basic interactions for you, so that you can trust them with your Instagram, without going outside of those daily limits.
They say that they ultimately want to help their clients grow an audience that cares about their content, their brands, and the fact that they're trying to sell a product or a service.
They say that one of the first things you will want to do is select from their two plans, which are called 'accelerate' and 'launch'. Once you've done this, you can relinquish control to them, and they can spearhead your campaigns from the moment that you sign up with them.
Beyond this, they will ask you to talk about what your target audience looks like, so that they can focus on the right people for your content.
Morelikes is a simple, yet effective Instagram bot that focuses on Instagram likes. A little bit later we will talk about why Instagram likes are the most important interactions to use on the social media sharing app to find the right followers, but for now we will just talk about how pleased we are that this Instagram bot sees the merit in these types of interactions.
Another thing that they do for their clients which we really appreciate is that they detect when you upload a new piece of content onto your feed, whether this is an image or a video. Once they have done this, they send you the right number of likes for that content, so that it's going to look popular as soon as you have posted it.
This main feature comes with a number of additional features as well, including the ability to diversify your likes, so that you aren't having them all sent to one piece of content. They will also keep them dynamic, which means that they aren't going to send the same number of likes for every post.
Grablikes works in a similar fashion to Morelikes, in the way that it detects when you have loaded a new video or image to your Instagram feed. We think that this is by far one of the most effective ways to grow your Instagram profile these days, and beyond its effectiveness, it's also really convenient.
It means that you don't have to get in touch with the Instagram bot you are working with every time you upload a piece of content. You can simply post it, and then go on to think about the next one.
If you are warming up to this way of growing your Instagram profile, then we think it is the way of the future, and we can expect to see a lot more companies adopting this approach as time goes on.
UseViral is an Instagram bot that has a knack of knowing what its clients need, when they need it. In fact, just like a lot of other Instagram bots on this list, it comes with a point of difference, in the form of a network that you can use to grow your Instagram profile exclusively.
This network allows you to tap into more than 5000 connections they have made in the industry, so that you can find people who are actively going to share your content elsewhere online.
If you are someone who believes in expanding your brand's reach beyond Instagram, then this method is definitely going to suit your needs. We also like that they have really good pricing, and really good customer support as well, so you can get in touch with them if anything goes wrong.
SidesMedia understands that bots aren't the most appealing companies in the industry these days, but they want to turn this around completely. They want to be considered one of the most trustworthy Instagram bots out there, and we think that they have achieved this.
Considering that they are now the number one recommended Instagram growth service, we think that they are doing pretty well for themselves.
The best part is that they can help you grow your Instagram profile with real social media services, and their high-quality engagement is delivered to each and every one of their clients in a really good time frame.
You won't have to wait for more than three days for your engagement to come through, and they have regular customer support, so that you can get in touch with them should anything go wrong.
Nitreo is another Instagram growth company and an Instagram bot that is dedicated to helping its clients do really well. They say that you can get more Instagram followers with their features, and you can expand your reach and build your brand organically.
All you need to do to start growing your profile with them is to enter your email address, which means that you don't have to worry about sharing any personal information like a password.
They say that it's going to take just two minutes to get set up with their features, and you get real results out of it. They understand that there are a lot of companies out there that don't give their clients exactly what they need, and they want to change this part of the industry.
During the setup process, they ask you to specify your niche for them, so that they can target the right people for your Instagram profile.
They continue to improve their audience targeting over time, so that you can grow your Instagram with the right followers. Get in touch with them today if you have any initial queries.
Kicksta is a dedicated and effective Instagram bot that talks a lot about everything it's not from the get-go. When you visit their website, they talk about how they don't spend any time with fake followers, and they definitely don't send spam to their Instagram clients.
They say that their pure organic growth is powered by their Instagram bot that's going to preserve your Instagram's reputation. These guys know everything there is to know about growth speed and understand that Instagram implements daily limits that you can't go over.
That's why they have divided their speed limits into different packages, so that you can spend more for a slightly faster rate. However, again they will never push the boundaries with this. They also offer targets, as well as live chat support, and VIP email support.
Ingramer is so much more than just your average and Instagram bot; they are a marketing tool kit for Instagram, and they say that they've got smart tools that you can use for your Instagram profile, so that you can engage with clients, plan content ahead of time, and build your target audience.
Again, they are so much more than just your average Instagram bot, which means that they can help you with every aspect of your Instagram profile. They have divided their features into three different categories: content, clients, and audience.
They believe that you need to be able to cover them all to do really well on Instagram. They only target people who are genuinely going to be interested in your content, which means that you don't end up wasting any time or money with them.
They even offer their clients a hashtag generator, so you can work out the best hashtags that relate to your content.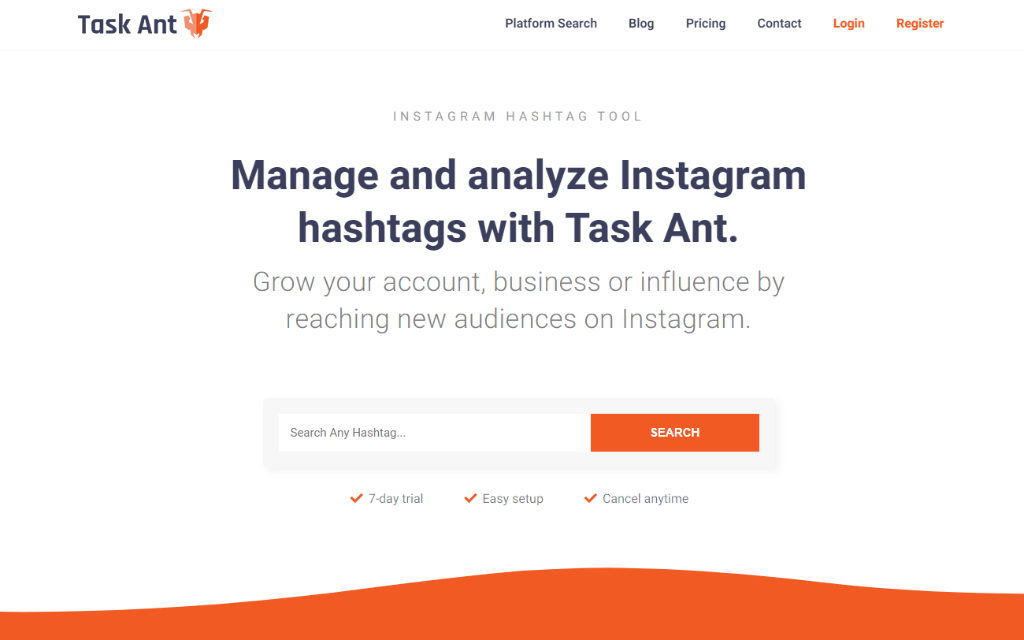 Task Ant is not just an Instagram bot; they are the king of hashtag generators. A bit further down below, we talk about how important hashtags are in relation to your content and working with Instagram bot companies.
If you want to get your hashtags right the first time, then we suggest that you check out the hash generator that Task Ant has to offer. With this hashtag generator, you can look up any hashtag that relates to your niche and find even more relevant hashtags to apply to your content.
They say that they offer their clients round-the-clock customer support, and the process of getting set up with them is really easy. Plus, you can cancel anytime, so there's no love lost if you don't find that their features suit your needs.
We love that they also take the time to organize their clients' hashtags into sets, so that you can use their dynamic range of hashtags on every piece of content that you upload.
Stellation Media is a seasoned Instagram bot that promises real follower growth and engagement. Again, just like a lot of other Instagram bots on this list, they promise that they don't mess around with spam, or fake followers.
They believe that their pure organic growth is capable of growing Instagram content in the right way.
They've got a lot of client testimonials out there that attest to just how effective their completely automated services are, and the best part is they will sit down with each and every one of their clients initially, and talk to them about what their target audience looks like.
The best part is that they do everything for you, so that you don't need any prior technical knowledge to get started with them. They have email, live chat, and dedicated support beyond the average Instagram bot.
One of the things that we like the most about this company is that they have been in this business for a long time, so they really know what their clients need to do really well with their Instagram profile.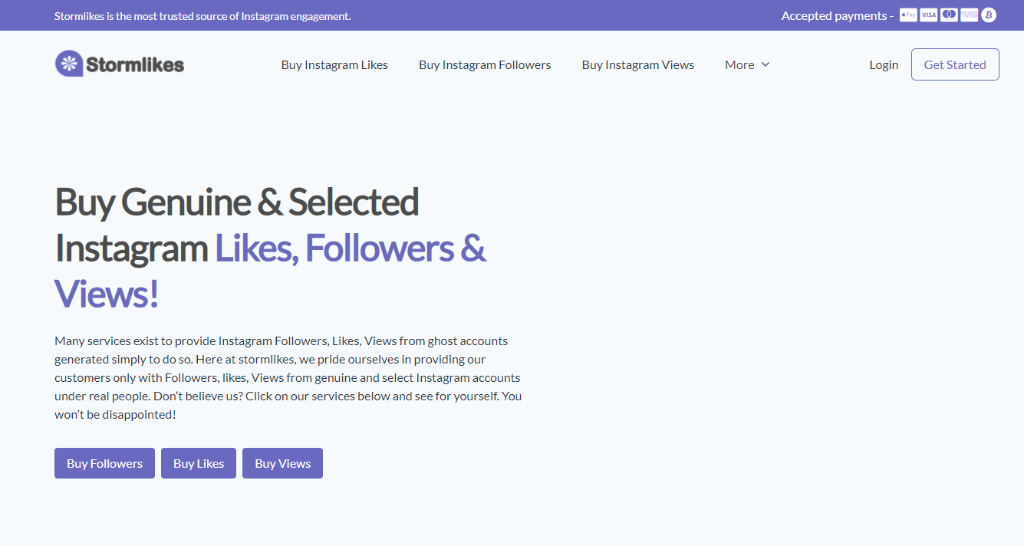 Stormlikes is a high-quality Instagram bot that can help you not only with your Instagram likes, but with your views and followers as well. They say that there are lots of other Instagram bots out there that purely just want to send engagement to their clients, no matter whether it is relevant to their content or not.
However, they believe that they have the opposite intentions for their clients and want to help them get really specific with their content targeting from the beginning.
Once you have entered your details, they will start the process of growing your Instagram profile, and one thing that we really appreciate about this bot is that they have a lot of FAQs on their website, so that you can get to know them really well before you sign up for anything.
They've been in this industry for long enough to know what it takes to be really successful on Instagram, and we think that they are really reliable.
Do Instagram Bots Still Work?
Do Instagram bots work? Yes, however, legit ones are getting more and more difficult to find. There are still many reliable software brands that are going to help your Instagram account automate the right interactions, just like the companies that you see on the list above.
However, with this being said, Instagram is always getting better at working out who is using automated interactions and getting to the source of this automation. This means that if you want to use an Instagram bot, you need to stick to lists like the one above and do your research within this list.
This way, you can find one that's going to work really well for you and understand that at some point you might have to go for another one on the list, because it might not last forever.
The bottom line with Instagram bots is that it's best to know that they are always changing so that you can adjust your expectations accordingly.
How Effective Are Instagram Bots?
As you can see, there are still lots of worthwhile bots out there, but in an effort to mitigate this, Instagram is making changes to its platform that makes it harder for the average account to not only make the most of an Instagram bot but to interact with other profiles out there at a quick rate.
All of Instagram's efforts have resulted in bots being less effective than they used to be. This is why the companies that are worth your time are few and far between, and difficult to come by.
Your expectation should be that it is more difficult to find effective and safe Instagram bots that are going to generate the growth that you need.
If you keep your expectations low, then you will be able to make the most of the bots we have talked about above and adjust them for your personal preferences.
What is Instagram Doing to Mitigate Bots?
Let's talk a little bit about what Instagram is doing to mitigate the proliferation of bots right now.
Shutting Down Big Companies: Back in 2017, Instagram decided to sue some of the biggest bot companies out there. Since then, Instagram has worked to consistently shut down and threaten to sue companies that are obviously selling an Instagram bot to the users.
Customizing Interaction Limits: Because your engagement correlates with the total number of profiles that you interact with every hour or every day, Instagram is always limiting the effectiveness of this activity, by enforcing less predictable interaction limits every day that vary according to your profile's history with the platform. To put it another way, Instagram now allows fewer interactions every hour, making it difficult for anyone to know the complete limit of interactions that they are allowed. This means that people who automate their interactions are more likely to be restricted or suspended. The general rule here is that the younger your profile is, or the less activity you have done on Instagram so far, the smaller your interaction thresholds are likely to be. If you try to interact beyond this, Instagram will restrict you in a certain way, and you might be suspended from the platform completely for a few hours. If you continuously hit your limits, or even go over them, you do run the risk of having your account blocked from doing anything for up to two weeks.
Sending Push Notifications: Another way that Instagram is mitigating the use of bots on their platform is by sending push notifications to users who they have identified as guilty. This is typical because they are stretching the boundaries when it comes to their hourly limits, and these push notifications tend to come in two forms. Firstly, they communicate with the user that they are removing any followers or likes that they deem illegitimate. Secondly, they communicate with the user that their account has been compromised. In both instances, the user is asked to change their profile, which is going to automatically disconnect them from the Instagram bot that they are using. The good news is that with both scenarios, there are no permanent negative effects on your profile, and you will still be able to use the software, however, you will need to adjust the interaction rate.
Blocking Accounts: if Instagram has reason to believe that you are using an Instagram bot over and over again despite going over your daily limits, then there is every chance that they will send you a push notification informing you that you have violated their terms and conditions and that they have blocked your account for a specific time period. If this does occur, don't panic, just stop trying to interact, and either change the software that you are using, or adjust your interactions, so that they happen at a slower rate. After a while, your account will get unblocked, and you'll be able to keep on interacting.
Could You Get Shut Down for Using a Bot?
If you use a bot that is constantly violating Instagram's hourly limits, then you are at risk of getting any of the notifications that we have talked about above, but the good news is that Instagram is not going to shut down your profile permanently for using a bot.
The most typical scenario is that they don't let you interact with anyone else for the rest of the day, and the worst-case scenario is that you won't be able to interact with anyone or post anything to your feed for up to a week.
So, if you want to reduce the chances of putting your account at risk, then it's important you use Instagram bots like the ones in the list above, that are really careful about the interaction speeds they set for their clients.
A lot of them will also provide you with a VPN and have regular customer support. These are the kind of characteristics you want to go for, so that you can preserve the reputation of your Instagram profile.
How Can You Use a Bot Safely?
Figuring out the right bot for your growth is only half the fight. Ensuring that your bot's interactions are effective and safe at the end of the day depends on how well you know how to automate your bot.
Let's take a look at how you can automate the Instagram bot you are working with safely so that you can stay out of trouble.
Don't automate follows, comments, or direct messages: In an effort to grow their Instagram profiles really quickly, there are a lot of people out there who will use an Instagram bot to follow and unfollow other people, direct message them, and comment on their content. Of course, theoretically, this is a good idea, as it creates more opportunities for your profile to be discovered, but in reality, it's annoying, especially for those who are receiving your interactions. In fact, these kinds of interactions are the reason that people think bots are a bad idea, so make sure that you don't automate any of these. We believe that one of the most effective ways to use an Instagram bot is to automate those likes. This is because likes are a subtle way of interacting with other people, without being annoying or spammy.
Pick targets that are relevant to your content: another really important part of using an Instagram bot effectively is knowing how to pick the right targets for it. Legitimate Instagram bots are going to ask you to give them targets. These are Instagram profiles, locations, or hashtags whose taggers and followers you would like your bot to interact with. The secret is selecting the right targets that are going to generate a higher engagement rate for content is working out the locations, hashtags, and accounts that people already follow or tag who are most likely to find and be interested in your content. The better you are at understanding who these people are, the more likely your interactions are going to turn into a follow on your profile.
Make sure your content provides value: Not only is it really important to know which locations, hashtags, and accounts are relevant to your industry and niche, but it's also important to make sure that your content is actually considered valuable to the targets that you have selected. Let's say that you are a photography account that sells photos that you have taken. Unless the photography that you produce is perceived as more valuable than the photography that your targets create, the people that find your Instagram profile aren't likely to follow you. In a world where every follow has a lot of value, why would someone follow an account that has lower quality content over one that they are already following? This is why it's important to be objective about your content's quality, and only choose targets that have a lower quality of content than you have.
Slow down your automated interaction speeds: we all want to do really well with our Instagram profiles and get famous virtually overnight. However, this isn't a realistic approach, and if you do things too quickly, you could end up losing the Instagram followers you have just gained. This aspect of automating your Instagram bot is simple, but it is also really important. The chances of your profile being blocked because of automation interaction depends on how many times you got over that hourly limit. Because you don't actually know what that hourly limit is, it's really important that you always start slow, and gradually reduce the speed of your interactions over time. After a month or so, you'll start to get a gauge on what a fair number of interactions look like.
Understand that a bot isn't going to solve your growth problems: one thing you really need to be aware of is that automatic likes and other interactions is not going to make an Instagram profile that already isn't doing well do better. Unless you've already got great quality content that people are organically discovering and wanting to follow you for, using an Instagram bot isn't going to make that much of a difference. An Instagram bot is going to increase the number of people who come across your account, but if your account's content isn't valuable to these people, then you aren't going to increase that follower count. All you're going to be doing is showing even more people how much they don't actually want to follow your profile, and they might even catch on to the fact that you are using an Instagram bot. This is why it's important to make sure your content is high quality and is capable of growing organically first before you add any automatic interactions that are going to advance your organic growth.
Final Thoughts
So, the bottom line here today is that there are companies that can still help you generate great results for your Instagram profile.
Right now, Instagram is putting a lot of time and effort into shutting down the biggest Instagram bot companies, as well as customizing daily limits on users' profiles, according to their history on the platform.
It is also not afraid to send users push notifications around their third-party software use and blocking people who try to push the boundaries multiple times.
Because of these strategies, it's more difficult right now for the average Instagram user to find a safe Instagram bot company and actually get the results that they want.
Our advice to you is to take it slow, go through the list that we have covered above, and determine which company is going to take care of your Instagram growth the best so that you can preserve your existing Instagram reputation, and not go over your daily limits. Good luck!
This is a Contributor Post. Opinions expressed here are opinions of the Contributor. Influencive does not endorse or review brands mentioned; does not and cannot investigate relationships with brands, products, and people mentioned and is up to the Contributor to disclose. Contributors, amongst other accounts and articles may be professional fee-based.