Instagram continues to be the top platform for all things business and marketing— influencers, businesses, brands, public figures, politicians, artists, creators, and pretty much anyone else you can think of is on Instagram to try and make something of their endeavors. 
With over 1 billion monthly active users, can we really blame them? 
Instagram holds huge potential for growing your presence on social media, generating interest in your endeavors, and even increasing conversion for those involved in e-commerce. You can even make money through Instagram influencing. 
No matter what your Instagram goals are, you're going to need to build a solid presence through higher follower counts and healthy engagement levels in order to succeed. This is possible to do on your own, but it's time-consuming and often discouraging. 
It's an uphill battle to fortify your Instagram growth all on your own, which is why for years companies have tried to sell you services to build your Instagram engagements and following. 
It's been a rocky journey, and many companies out there care little about your success and mostly about lining your pockets. Instagram is also hyper-aware of these companies trying to bolster users' popularity on the platform and have eagle eyes everywhere waiting to attack. 
For these reasons, it's extremely important that you do your research and choose the right service to help your Instagram grow in real and natural ways. One of the best options for doing this is through an Instagram promotion service. 
After reading our article, you'll understand: 
What an Instagram promotion website is

Best Instagram promotion services 

5 pro tips for Instagram growth 

How fake followers damage your Instagram 
It is our hope that once you check out this article, you'll be able to find a company that can foster your real Instagram growth and also implement some key strategies to keep growing your Instagram for years to come. 
Let's get into it! 
What is an Instagram Promotion Website?
An Instagram promotion website is a site that offers you valuable promotion services for Instagram in order to get your content more exposure and grow your followers and engagement. 
Ultimately, using an Instagram promotion service will allow you to grow your Instagram following with real users that engage with your account; this is also known as organic growth, which is totally permitted by Instagram itself. 
Anyone who has been following Instagram for a while knows that there have been many ups and downs with outside companies trying to provide growth for the platform. First, there was the fake followers boom, and that was extinguished pretty quickly, although they are still able to be purchased on some sites. 
Then came the wave of automation where pretty much every user had hired a bot to spam thousands of users a day in hopes that some of them would follow back. This started to become an issue for the Instagram user experience and these companies were essentially blocked from the platform. 
Instagram then changed their algorithms to honor engagement over follower count; this makes more sense if you consider it because content truly is more successful when a user, follower or not, likes it, comments on it, or shares it. 
So, currently, you need high levels of engagement to perform optimally against the Instagram algorithm, and since Instagram promotion services help to get you noticed by real users, that is a logical increase as well. 
Long gone are the days where a lot of Instagram followers make you popular—- now you need to have healthy engagement levels and numbers that make sense. If you've got thousands of followers with low engagement, you're not going to be performing very well and will actually look less credible. 
Instagram promotion services can help you to gain more real followers and thus increase your natural engagement. Let's take a look at the top companies to see what they offer and how it works.
Top Instagram Promotion Service Websites 
The following websites are the top 5 Instagram promotion services that will deliver the most effective and valuable results in a safe and real way. 
When you consider using these services, you are well on your way to giving your Instagram the competitive edge it needs in order to get noticed by more people out there and get you the real-life results you need for your business, brand, or whatever else you're working on. 
Let's take a look at what you can expect when you use one of these top-quality Instagram promotion services. 
Our top option to get real Instagram followers and engagements is Growthoid. Growthoid has been a chosen option by thousands of Instagram users and they have proved to be one of the best, fully-managed Instagram promotion services. 
When you use Growthoid, you'll get a dedicated account manager that will use your advanced targeting instructions to promote your content with users who are likely to care about it and be interested in it. 
Growthoid has two flexible monthly plans that will keep your account promotion activity going all month long, and you can cancel anytime. You don't have to worry about bots or fake engagement as they only use human-initiated, organic growth methods and will get your content seen by all the right users on Instagram. 
You'll be protected by a 14-day money-back guarantee when you use Growthoid, so there's really nothing to lose. Their services are totally safe and you'll be more than satisfied with the results. 
Like Growthoid, Growthsilo offers users fully-managed Instagram promotion services that come from real people. You will work with your account manager closely to provide relevant targets so that they can get your content and profile seen by people who'll want to follow it. 
When you use these organic methods for Instagram growth, you'll see the best results because these are the proven methods for follower growth even if you were to do it yourself. That's the best thing— you can focus on other areas of your Instagram like content and hashtags, and Growthsilo can work on promotion. 
You'll be able to choose from two no-contract monthly plans and they also offer a money-back guarantee, so if you decide it wasn't for you, you're covered. This is really transparent and helps users to build trust in their services.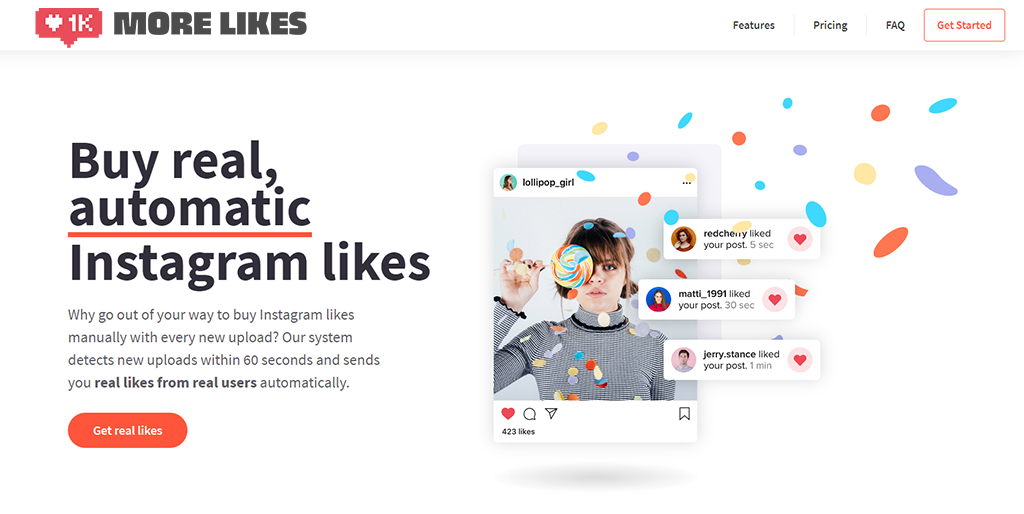 Since engagement is the most important metric on Instagram, if you need an Instagram promotion service to help boost the number of likes you're getting on each post, MoreLikes is definitely the service for you. 
You will love the service that MoreLikes provides because they get your photo or video post likes as soon as it goes live through their in-house network of Instagram users. That means you'll be able to enjoy consistent and measured likes for all of your Instagram content. 
You can choose how many likes and how fast or slow you'd like the engagements to come in, and you'll be covered for up to 4 posts per day, which is more than enough. 
MoreLikes is one of the coolest services out there for Instagram and it's a great supplement to your other Instagram growth strategies or services. 
SidesMedia is another great Instagram promotion service with a strong in-house network of users that work to boost your Instagram popularity. You'll be able to choose the type of engagement you need, including Instagram likes and followers, and you can choose how many you want as well. 
SidesMedia will then get their network to go through and interact with your content, gaining more real likes, followers, etc. for your Instagram. 
What's great about SidesMedia is that they work on other platforms too, so if you're looking for promotion services for Twitter, Twitch, YouTube, or LinkedIn, they can help you get that as well. 
Our final choice for top Instagram promotion services is Media Mister; they've been around for so many years and have perfected the art of Instagram promotion. 
You can choose from a wide variety of engagements and followers to help your Instagram become more popular, and they have some of the most natural delivery time frames so that your account stays safe and you won't have to worry about any flagging or suspension. 
Media Mister has a secure site and offers secure payment gateways, so that's why they've been a great option for such a long time. 
Ways to Boost Your Instagram Popularity — 5 Pro Tips 
Aside from choosing one of these Instagram promotion services, you've got to also continue to elevate your content and bring your new viewers something valuable. 
It's all too frequent that people pay an outside service or agency to grow their Instagram following and they sit back on their behind and do nothing to perpetuate their Instagram growth or content. 
Since Instagram promotion services are all real and organic, you have to provide something of value if you want to see the results you're aiming for. These are not shortcuts nor are they magic services— they are real options for helping you reach more people. No more, no less. 
There is no shortcut to becoming Instagram famous; an Instagram promotion service can help you speed up the process, but you still have to do your part, and for that reason we've brought you 5 pro tips to keep your Instagram growing and thriving with your Instagram promotion service results. 
1. Use Hashtags 
Hashtags are one of the main ways that your content becomes discoverable on Instagram as well as on other social media platforms. If you aren't reaching users through hashtags, you are severely limiting your content's discoverability. 
The first thing you need to know about hashtags is that your account needs to be public if they're going to work; if your account is private, your content will only be viewable by your followers in hashtag feeds, not by new users, so for best results keep your account set to public. 
Then, you'll have to determine which hashtags work best for your content niche and be specific about which ones you're going to use. Instagram allows you to use up to 30 hashtags per post, but using more doesn't automatically mean better. 
For example, if you use a general hashtag like #lovely, you are not likely to be seen by too many people because there are so many posts being uploaded with this hashtag that it'll be pushed down the feed too quickly to be noticed. 
In addition, you're not likely to see targeted results because this is such a general hashtag it could be used in any niche. 
Keep your hashtags specific and targeted and check out what hashtags similar thriving accounts use to get some ideas if you're feeling blank. You can also search hashtags and see what kind of content pops up. 
2. Take Advantage of Instagram Stories 
Instagram stories is a huge feature of the platform and adds, on average, 28 minutes of user time spent on the app, which goes to show that people love the feature. 
There are users on Instagram who use Instagram stories exclusively, so if you are not active on IG stories, you're missing a big part of your potential audience. 
Instagram stories also gives you a great chance to engage with your followers in new ways through very interactive features like polls, questions, quizzes, and more. The possibilities for creative and beautiful content with Instagram stories is really endless. 
Not only that, users can get a more casual or intimate look at you behind your brand or business, and you can provide different types of content to keep them interested. 
What's more, when you have an active story on Instagram, a colored ring will appear around your profile picture. This means that users who discover you will have another piece of content to check out, and when you are engaged on Instagram and have wide content ranges, people will be more likely to stick around. 
You should aim to use Instagram stories at least once a day so that you have an active story every 24 hours. Your stories disappear after 24 hours and then you can create albums on your main profile pages for easy access or repeat viewing if the story was informative or entertaining. 
3. Use Calls-to-Action in Captions
Remember, engagement is king on Instagram, so you really want to find ways to get people liking, commenting, and sharing your content. 
A great way is to include calls-to-action in your captions, asking your Instagram followers to engage with your content in some way. Some examples include: 
"Double-tap if…" which allows your followers to connect with your content through whatever you want them to relate to. That will get you more likes and also create bonds with your followers. 

"Tag a friend who…" you can get people commenting on your photos through tagging friends who can relate or connect in some way. For example, maybe you post a throwback to one of your travels. You can say "tag a friend you want to get away with soon!" and then that will boost your engagement and encourage others to also comment. 

"Tell me in the comments" you can ask your followers questions or for their opinion and then ask them to write to you in the comment. It can also help if you put something like "I read them" or something to that effect so that users know you'll be seeing their comments. 
All in all, these are just a few ways to get users to do things with your content, but they can be very effective and used in creative ways to get your followers feeling connected to you, boosting your engagement at the same time. Win-win! 
4. Run a Giveaway 
Hosting a giveaway is one of the easiest and most effective ways to get an injection of followers and engagement. When you host a giveaway, choose enticing products for your niche of followers and set some rules to gain entries. 
For example, you can have 2 or 3 actions they need to take— like the post, follow you, and tag a friend. This is the perfect trifecta of followers and engagement, and if you run the giveaway for the span of a week, you can see some real results. 
This isn't something you should be doing all the time, but every now and then it can get you a good boost in all of your metrics. You can even do collaborative giveaways to have more results and not always be running them yourself. 
5. Incorporate User-Generated Content (UGC)  
When you repost or feature content from other users on the platform, you gain attention for your account and also for that user and followers of that user's account. It's shown that UGC increases engagement by 28% on Instagram, so it's a valuable method. 
Create a branded hashtag that users can tag you with every time they post something featuring you or relating to you. Ask users to post in your stories or in your news feed, or ask them to send you some specific type of content and they'll be featured. 
When you connect with your audience you not only become more approachable but others will want to be featured, allowing you to gain momentum and even perhaps increase your conversion rate and gain more engagement. 
How Buying Fake Followers for Instagram Hurts Your Account 
Instagram is no newbie to fake followers and engagements, and they have strict rules about how and what fake followers mean for your account. 
Here are the three main ways that fake followers and engagement on Instagram can actually harm your growth. 
Instagram Has Policies Against Fake Popularity 
Instagram doesn't tolerate users who buy Instagram followers, likes, views, etc., and you can be flagged and banned from Instagram if you are a multiple offender. 
Instagram is one of the strictest platforms out there in terms of these policies and rules, so don't mess around with them. Don't waste your time with fake followers and engagements on Instagram because it won't do you any good. 
Your Reputation will Decrease 
Users on Instagram can pick out fakes from a mile away. With so many people buying followers and trying to fake their popularity, it's easy to do, and users are really turned off by it. 
For instance, if you have 80k followers and you are averaging 75 likes per photo (trust us, we've seen it), this obviously raises some red flags. Either your content is terrible and all 80k of your followers don't like it, or you've bought followers which really haven't worked out too well. 
In any case, that's not going to work, and if you're an influencer, stay away— brands and partners are less likely to use you if you have fake follower numbers or poor engagement rates. You'll only be shooting yourself in the foot. 
You'll Get No Results  
As you can see above, buying fake followers for Instagram doesn't help you in the key measurable to perform well on the platform— engagement. 
Even if you buy engagement to go with your followers, you're just going to get caught in a perpetual cycle of buying fakes. You'll be throwing your money down the drain and you still won't be selling more products or gaining new clients because these fake followers don't engage with your content and will never become a customer. 
If you're looking to use your Instagram for real-life results, don't invest in fake followers, as you'll wind up with less money in your wallet and ultimately disappointed. 
Wrap-Up: Instagram Promotion Services 
Instagram is a tough platform to grow due to the stringent regulations imposed by the platform itself; you've got to be highly selective when you choose an outside company to work with. For this reason, the 5 companies on this list are safe options that can gain the Instagram growth results that you need. 
Once you choose one of these Instagram promotion services, you can then use the 5 strategies listed above to enhance the results and get even more growth for your Instagram account. That way, you get the true competitive edge you need to have a solid Instagram presence. 
Since Instagram is one of the most respected and important social media networks, take your growth seriously and maintain a positive reputation so that you can continue to see success on the platform.
This is a Contributor Post. Opinions expressed here are opinions of the Contributor. Influencive does not endorse or review brands mentioned; does not and cannot investigate relationships with brands, products, and people mentioned and is up to the Contributor to disclose. Contributors, amongst other accounts and articles may be professional fee-based.