We've covered so much in the Ordinals space since Feburary that this had to be a two-parter! How has Yuga's venture into Ordinals fared since their monster auction? Is BRC20 mania still running wild?
Some of these updates may surprise you…
Twelvefold

Over $16.5 million was raised during the much-hyped TwelveFold auction back in March. However, since then, Yuga has been rather quiet about their plans for TwelveFold, with very few and far between updates coming the public's way.
However, on September 7th, after six months of silence, a series of puzzles was announced that would incorporate the TwelveFold collection. Unfortunately, for holders of TwelveFold pieces, the contest is open to anyone and everyone. News about what holders can expect from owning a piece is still a mystery.
On the positive side, Yuga is a prominent player in the NFT space with substantial funding, so there are expectations that something significant will eventually emerge. Furthermore, TwelveFold, as art, remains a robust and enduring investment due to its reputation for quality. Nevertheless, it's worth noting that the collection's floor price currently stands at 0.6969 BTC ($18,000), which is approximately 66% lower than the lowest price paid during the auction.
BRC20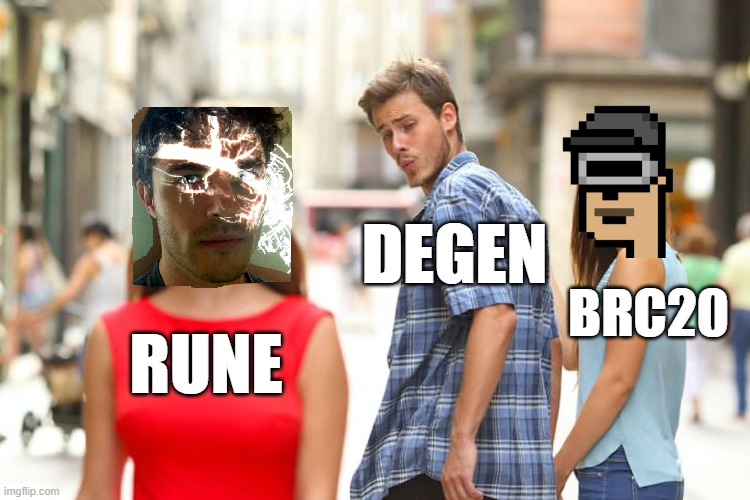 BRC20s, affectionately known as "shitcoins on Bitcoin," have experienced extreme fluctuations in both price and sentiment since emerging in late April. After a euphoric blow-off top that briefly saw ORDI approach $30 and $MEME reach $800, among other similar moves for tokens such as PEPE and OSHI, the BRC20 ecosystem faces numerous challenges beyond their now basement bargain prices. In fact, the vast majority of these tokens have declined by over 95% from their all-time highs.
Casey Rodarmor, the creator of Ordinals, has recently expressed his dissatisfaction with BRC20s and has proposed an alternative called "Runes." This has created uncertainty around BRC20s, resulting in price drops even for the more robust tokens that are actively developing. One exception to the rule on that is TRAC, a token that was not featured in our previous article, holding reasonably steady in the $0.30 range.
BRC20s are known for being clunky and somewhat awkward to use. While some view these quirks as part of their charm, if Rune introduces a more appealing approach that resonates with speculators and developers, it could indeed potentially replace BRC20s.
Bitcoin Miladys

Bitcoin Miladys introduced a new token standard called BRC-721E, which acts as a bridge to enable the seamless transition of ERC-721 NFTs from Ethereum to Bitcoin.
While this development was noteworthy, showcasing the rapid growth on Ordinals in a short period, it has not seen widespread adoption since its introduction, and its popularity was fleeting. However, this could change in the future.
The project invested a significant portion of the proceeds from Bitcoin Miladys sales in acquiring Mildays and Remillios and still holds 100% of these acquired assets, and recently, project holders received BM branded merch.
CLASSIFIED
"Black Sats" represent a new concept in the world of Ordinals introduced by the founders of CLASSIFIED, known as Black God and White God. Black Sats are part of the Black Sat Rarity Index, complementing the existing Rodarmor Rarity ranking system. This index values the last sats of the first block as much as the first sats.
Despite challenging market conditions and occasional waning interest in Ordinals in recent months, both founders have kept plugging away, persistently working towards realizing their grand vision. They have engaged with influential figures in the Ordinals scene, including ZK Shark, the founder of OMB, demonstrating that they have garnered the attention of key players in the space. You wouldn't bet against these guys based purely on their work ethic and passion.
Their latest mint will take place on October 5th, launching on MagicEden with a limited supply of just 300 on offer.
This is a Contributor Post. Opinions expressed here are opinions of the Contributor. Influencive does not endorse or review brands mentioned; does not and cannot investigate relationships with brands, products, and people mentioned and is up to the Contributor to disclose. Contributors, amongst other accounts and articles may be professional fee-based.