CHARLOTTE, North Carolina – Bhasmang Mehta, wildlife photographer and founder of Wildlife Sojourns, has begun planning and curating wildlife safari excursions in India for clients from across the USA to their office in Charlotte, North Carolina. While maintaining his photography business, Wildlife Sojourns offers Bhasmang opportunities to share his talents in curating the best safari expeditions.
His longtime connections to the industry through countless safaris have afforded him the chance to witness amazing moments in nature, which he has captured and cataloged throughout his photography career.
Who is Bhasmang Mehta?
Born in India to a family of doctors and industrialists, Bhasmang joined the family business in Pharmaceuticals. In 2003, after a visit to Gir National Park, Bhasmang realized his love of photography and decided to go down the less traveled path to pursue wildlife photography as a career. 
An avid photographer from a very young age, he has been on countless wildlife expeditions, capturing the wild side of nature on his camera. In 2017, he decided to share his experience of wildlife safaris with the rest of the world, and Wildlife Sojourns was born. A resident of North Carolina now, with strong ties to his friends and family back home, his wildlife photos have been published in prestigious magazines such as Lonely Planet and Frontline.

He has also contributed several works to the renowned Bombay Natural History Society. Bhasmang also regularly holds workshops on wildlife photography for enthusiasts, to teach them the nuances of the field.
A Portfolio Capturing Nature's Beauty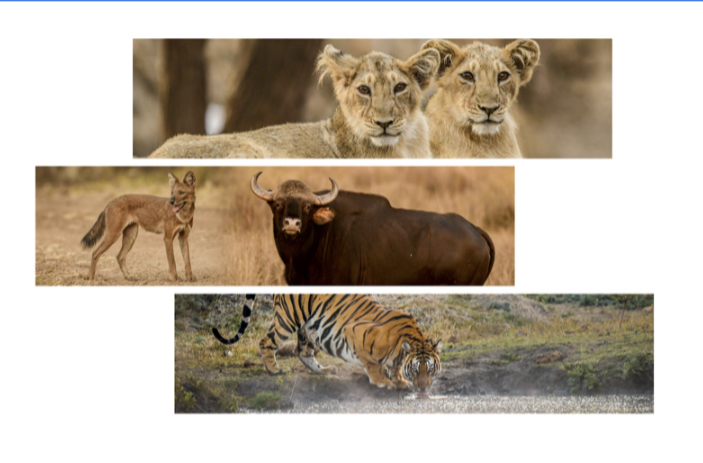 After almost two decades of capturing wildlife photography in India, Bhasmang Mehta has a wealth of experience and established connections with some of the best forest guides in the country. With a combination of great resources, knowledge, and experience, Bhasmang captures beautiful shots of such species as the Asiatic Lion, the endangered Barisingha, and the endangered Siberian Crane.

Bhasmang combines this innate knowledge of these species, their natural habitats, habits, and behaviors with his skill behind the camera to amazing results. Capturing the Bengal Tiger and Indian Leopard with excellent precision, his photography services include an impressive level of detail.
Bhasmang is always searching for his next potential subject. Naturally, moving professionally to the United States sparked new curiosity upon discovering the wildlife living near his home in Charlotte, North Carolina. "It's been a joy ride to explore and photograph wildlife of USA as it is pretty much entirely different from the Indian subcontinent," Bhasmang says, "Totally new species of birds and mammals." 
Capturing high-resolution images of the American Black Bear, the Snow Goose, and the Hooded Merganser, Bhasmang shows universal talent in showing not only great skill in wildlife photography, but intuition. Showing attention to detail that is unmatched, Bhasmang perfectly captures a profile as well as the sense of intention in the subject's movements. 
Potential clients can contact +1 (704)-451-4446 for more information on his photography.
Photography Workshops
Bhasmang Mehta's photography workshops, offered by and scheduled through Wildlife Sojourns, have the primary goal to prepare both photography beginners and experts who are hoping to sharpen their skills and ensure they capture the best photos while on a safari. Proper technique, advice on equipment, and overall training allow Bhasmang Mehta to break the skill of photography down to clients and dispel beliefs that one needs to be a 15+ year photography veteran to capture good photos. 
As well as offering these services from Wildlife Sojourn's offices in Charlotte, North Carolina, Bhasmang plans to expand his workshops to reserves and national parks around the country, helping tourists and wannabe photographers to find their talent in capturing wildlife in its most gorgeous moments. As Wildlife Sojourns expands, Bhasmang is excited to share these moments and the skills to capture them with his clients.
Potential clients can contact +1 (704)-451-4446 for more information on workshops.
Bhasmang Mehta's Future
As far as the future goes, Bhasmang intends to follow his passion and expand Wildlife Sojourns even further, opening offices around the country and hosting workshops at national parks and nature reserves all over. As well as offering excursions within the United States and India, Bhasmang doesn't intend to stop there, with safari trips in destinations further south like Costa Rica and Brazil approaching on the horizon. Bhasmang not only hopes to share the skill he's gathered in wildlife photography, but the desire for exploration and adventure.
It's easy to see why customers love the work Bhasmang Mehta affords. From his work planning and operating wildlife safaris to his photography clients, Bhasmang Mehta utilizes industry connections, firsthand experience, and working knowledge to provide his clients with a chance to witness the natural environment raw and undoctored in all of its majesty. Anyone curious about Bhasmang's talents should contact him today.
Bhasmang is an Indian-American wildlife photographer currently based in Concord, North Carolina. Born into a family of doctors, after graduation Bhasmang joined his family business of pharmaceuticals. He discovered his love for wildlife and wildlife photography in 2003 on his maiden trip to Gir National Park. Soon it became a passion and then it became a profession. Later on, he along with his wife Zankhana started "Wildlife Sojourns," a travel company that specializes in wildlife tours to India
For more information, visit wildlifesojourns.com or contact Bhasmang Mehta at info@wildlifesojourns.com or connect with him on Instagram @bhasmangmehta
This is a Contributor Post. Opinions expressed here are opinions of the Contributor. Influencive does not endorse or review brands mentioned; does not and cannot investigate relationships with brands, products, and people mentioned and is up to the Contributor to disclose. Contributors, amongst other accounts and articles may be professional fee-based.