You know what it's like. You're scrolling through your timeline for something interesting to distract you. You see the same old titles, the same old tips, tricks and tools for your industry. You've read them all before—you don't even need to open them to find out more. It's not long before you find yourself sat at your computer about to write the next post for your own blog, and, sure enough, you're writing yet another of the same types of blogs that people will skip over. You're producing content for the sake of it.
With the sheer volume of content out there, it's all too easy to fall into this trap, but you don't have to be overlooked.
When it comes down to it, epic headlines that convert are rooted completely in the psychology of words.
Now, we're not talking just any old words. We're talking specific, persuasive, and actionable words and phrases that are scientifically proven to have a psychological impact on our conscious. If you want to create viral blog post headlines that convert, you need to craft them to a 'T' to stand out in the crowd.
For the record, that crowd currently consists of about 59.3-million blog posts per month. That translates to about 2-million blog posts daily.
One recent study found that a whopping 80% of readers will never make it past your headline and that traffic can vary as much as 500% based on this one feature alone.
So to help you gain the edge on your competition, I'm giving you five of the best data-driven tactics to generate magnetic blog post headlines that will convert.
1. Number-Based Headlines
Numbers are brain candy and headlines beginning with numbers are statistically proven to perform better than those without.
A recent Conductor survey found that 36% of readers had a preference for headlines that included numbers—i.e. "10 Ways to Generate Passive Income" or "7 Tactics to Increase Landing Page Conversions".
Your audience is over click-bait. We live in a society where time is of the essence and nobody has any of it to waste. Whether they're reading an article about gardening techniques or the best DSLR cameras to vlog with, they want to know exactly what they're going to get.
We analysed the insanely successful content aggregator and found that 50% of the posts in BuzzFeed's Trending Topics of began with—you guessed it—numbers. 
Even more interesting, the Content Marketing Institute found that headlines with odd numbers had a 20% higher conversion rate than those with even numbers.
The more explicit your blog post headline is about the reader takeaway, the more your headline is going to resonate with your audience. Numbers are about as specific as it gets.
In a recent post on creating awesome headlines, Social Media Examiner describes how you can "…use low numbers to show how concise your article is or high numbers to show how comprehensive it is."
When you use numbers—the numerals, not the words—you are doing three things:
Promising something specific

Implying there is a clear format

Implying  there is an ease of readability
2. Superlatives
We live in a highly competitive and individualistic culture. People are obsessed with having the most and being the best at everything.
We crave the latest technology, the hottest brands, the coolest fashions, the best cars, the quickest buck, the highest returns, the most selfie likes—it's endless!
This is where superlatives come in. A superlative adjective or adverb is one that describes something to the highest quality or degree.
Cleverly crafting your headlines with superlatives is an awesome way to grab attention because they are conclusive.
An example of a superlative is the word "quickest" because it describes its root word "quick" to the highest degree. Other examples of superlatives include words such as "largest",  "craziest" and "hottest".
For two and three syllable words, the words "most" and "least" are usually added—such as the phrases "most insane" and  "least expensive."
Kissmetrics details the importance of superlatives and how they work to make your headlines definitive.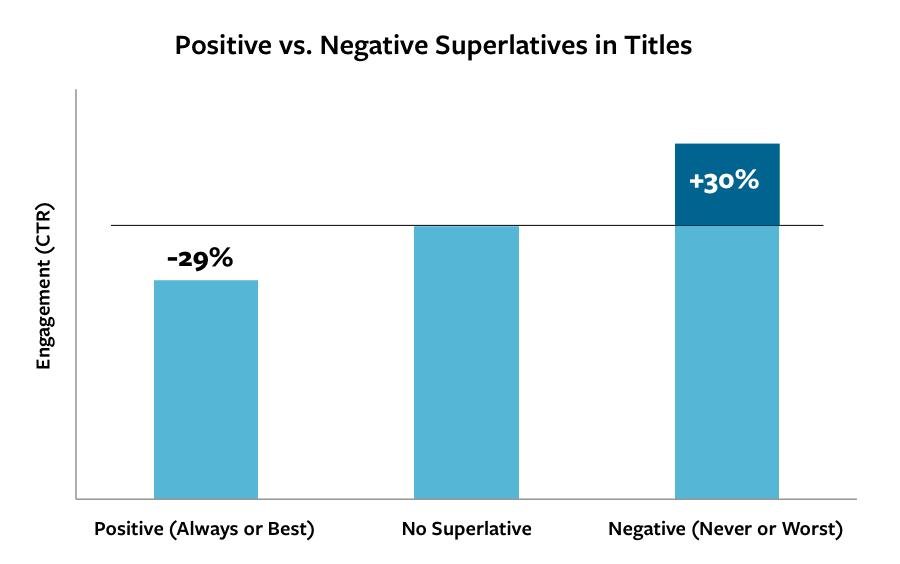 They even discuss how their negative forms can be extremely impactful on readership (i.e. "worst"). Outbrain also completed a study showing a significant increase in conversion rates with the use of negative superlatives.
For example, a headline like "The Quickest Ways To Achieve Success In Your Online Business" is intriguing.
However,  the blog post headline "How to Stop Killing Success In Your Business" adds an extra dimension of curiosity. It makes the reader question what they could potentially be doing wrong.
3. Create a Sense of Urgency
The American Writers & Artists (AWAI) list urgency as one of their 4 U's in crafting compelling headlines, labelling it an indispensable component.
For those of you less familiar with the four U's of content creation, they are:
Urgency—

Compelling your audience to act

now

rather than later.

Uniqueness—

Showing them how you're special. What makes you stand out from the competition? Are you consistent? Do you bring a fresh point of view or tone? Is your content more aesthetically appealing or data-driven thanthat of your competition?

Ultra-Specificity –

Being as precise as possible. You should always support your claims with specific facts and data when possible. This ultra-specificity also applies to your target demographic focus; the more razor-sharp your focus, the higher your

conversions

.

Usefulness. Providing actionable and relevant content that serves a useful purpose to your readers.
Creating a sense of urgency in headlines does two things:
It engages the audience right there and then

It adds a personal connection to the reader
Adding a sense of urgency to your blog headlines is a great tactic to engage and increase conversions because headlines such as "Stop Losing Money on Your Investments Today" appeal to your audience's innate desires for instant gratification.
Using words and phrases that create a sense of urgency also form a personal connection to the reader. These words make them feel like they need to complete an action because something might/will help them.
You don't necessarily have to include words such as "now" or "today" to generate a sense of urgency. Headlines such as "Don't Waste Another Minute Using this Marketing Strategy" also create a sense of urgency because it implies the reader could be doing something that needs immediate correction.
Marcus Taylor recently posted an article with ConversionXL on how he was able to increase their conversions by over 300% by doing nothing more than harnessing the power of urgency.
Taylor spent four months, a huge chunk of his savings and over a hundred hours marketing a campaign he created for his music business and credited the urgency tactic as "the single largest factor" in boosting conversions.
4. Your Audience's "Numero Uno" Is Themselves
It's no secret that the key to engaging an audience is to keep your content laser-focused on them.  Crafting your blog post headlines by keeping your reader at the centre of attention and showing your content's utility is the best way to increase conversions.
So how exactly can you do this? Well, there are three common "hacks" that you can use right now to better focus your content on those that matter most. They are:
Use the word "

You."

Show them

how to

do something.

Ask them a

question

.
"You" is probably one of the best ways that you can actively engage your audience. It instantly personalizes the content, regardless of who's reading it.
In fact, Moz noted that blog post headlines addressing the reader came in second in terms of reader preference, just behind headlines with numbers.
"How To" posts are also notorious for having outrageous conversion rates because they instantly convey a sense of utility.
Post titles such as "How to Quit Your Job & Start Working For Yourself" or "How to Craft Compelling Headlines" make a promise to the audience in terms of what they are going to get out of the content and infer usefulness.
When you write "How To" posts you're instantly feeding into your audience's sense of self-interest.
Questions are also another audience-centered tactic that works to actively engage the reader. In fact, according to the Content Marketing Institute, titles that ended with question marks were shown to have a higher click-through rate than those without.
5. Length
Leveraging length to your advantage is a quick trick to increase the performance of your blog post headlines. In short—keep it short.
Your readers like their blog post headlines and their content concise and to the point, as do search engines. In fact, 70 characters or less is the ideal length, as Google cuts off anything more than that.
Interestingly enough, the Content Marketing Institute and the Guardian both found that blog post headlines with eight words performed the best. They found on average they had a 21% higher click-through rate. That's pretty insane.
ConversionXL cited the 1956 research of Princeton University professor George A. Miller, titled "The Magical Number Seven, Plus or Minus Two: Some Limits on Our Capacity for Processing Information". The research details how these specific numbers relate to our working memory and, as a result, why they are so appealing subconsciously.

Conclusion
Crafting epic and engaging blog post headlines can make or break the success of your content. Despite what many may think, the ability to do this isn't some magical trait that only a select few digital marketing unicorns possess—it's a science.
The tactics discussed in this guide are all too often ignored. The truth of the matter is that your content could be fantastic, but without a compelling headline, it will drown in the sea of competition. When it comes to generating blog post headlines that convert, these five proven methodologies are absolutely fail-proof. When implemented, they are statistically proven to generate higher conversions.
Remember these five strategies hold the keys to your success! So don't waste another minute not boosting your content's performance.
It's always intriguing to me, and the content team at Quuu to see different perspectives and learn new ways to evolve my own content strategy, so please do share your own tactics for creating compelling headlines!
Sources:
https://www.influencive.com/secret-weapon-small-brands-beat-giants/
https://www.influencive.com/7-questions-sweta-patel-asks-stands/
https://www.copyblogger.com/magnetic-headlines/
https://www.wired.com/2013/02/tabloid-chic-the-rise-of-racy-headlines/
https://velocitypartners.com/blog/5-things-content-marketers-can-learn-from-list-headlines/
http://www.socialmediaexaminer.com/6-tips-for-writing-headlines-that-drive-traffic/
https://www.buzzfeed.com/?utm_term=.asrAdP29a#.sx1RrD81o
http://www.huffingtonpost.com/dr-jim-taylor/has-america-become-too-co_b_2999136.html/
https://coschedule.com/blog/write-a-headline/
https://blog.kissmetrics.com/headline-psychology/
https://www.linkedin.com/pulse/20140618065438-86132492-positive-vs-negative-superlation-in-headline
https://www.inc.com/larry-kim/30-headline-templates-for-super-clickable-blog-titles.html
http://www.awaionline.com/2001/06/a-review-of-the-4-us/
http://www.practicalecommerce.com/To-Grow-Conversions-Cater-to-Target-Audience
http://www.twelveskip.com/guide/blogging/1247/blog-post-title-templates-that-work
https://conversionxl.com/blog/creating-urgency/
https://neilpatel.com/blog/the-step-by-step-guide-to-writing-powerful-headlines/
https://moz.com/blog/5-data-insights-into-the-headlines-readers-click
http://thecopybot.com/urgent-headlines/
https://coschedule.com/blog/best-headline-length/
https://conversionxl.com/blog/5-characteristics-high-converting-headlines/
http://contentmarketinginstitute.com/2011/06/headline-click-through-rate/
http://www.musanim.com/miller1956/
This is a Contributor Post. Opinions expressed here are opinions of the Contributor. Influencive does not endorse or review brands mentioned; does not and cannot investigate relationships with brands, products, and people mentioned and is up to the Contributor to disclose. Contributors, amongst other accounts and articles may be professional fee-based.