Unless you've been on a long holiday away from Crypto Twitter for the past 6 weeks, you would have noticed Bitcoin Ordinals have been taking the NFT world by storm as of late! What's that? You have been in the rainforest? Oh, well no matter, because here's our quick guide to the basics of what Ordinals are and how to buy them. That should bring you up to speed.
Inscribing and trading Ordinals is currently not a straightforward process, but despite this, the 500,000th Ordinal was recently inscribed, and this number is expected to grow as technology becomes more streamlined to accommodate the common user.
However, not all of these inscriptions are worth the sat they're printed on. Many were created hastily and without much thought, with some even being direct copies of JPEGs from other collections on ETH. This is because low inscription numbers are considered a valuable commodity, and there's been a rush to inscribe….well….just anything, as a consequence.
Another quality that Ordinal collectors rate highly are those which are part of unique collections with original artwork.
Luckily for us, there's a project out there which ticks both the low inscription and unique collection boxes nicely – but also extends far beyond that in so many ways….
Meet The ExtraOrdinals
ExtraOrdinals is a PFP collection created by a group of big brained visionaries, all hailing from The Citadel in Neo Tokyo.
The first noticeable feature about this collection is the striking art; 100 unique, front-facing PFPs, each very distinctive from one another, yet clearly all related in their style. They exude a certain class which is befitting of Bitcoin, the premier blockchain many argue.
Yet behind the stylish art is an ambitious mission to accompany it. ExtraOrdinal.io is described as "a revolutionary platform that combines technological, networking, and financial opportunities by connecting Bitcoin and other Web3 communities through the shared fascination of digital artefacts."
Co-Founder, GreenCandleJack, spoke with us about both the problems which face Ordinals, and the proposed solutions he believes ExtraOrdinals can offer:
"As a market in its infancy, the Ordinals and Inscription landscape lacks infrastructure. Only a few projects are actively building a community and brand, something that has been proven to be of vital importance for retaining value by long-established ETH collections."
GreenCandleJack goes on: "Extraordinal.io sets out to provide our holders and their respective communities with services and education for this rapidly evolving space. Our dedicated data team analyzes the market and distils relevant information to deliver the latest innovations and alpha opportunities."
Cultivating a Community of Excellence
Staying on the subject of community, ExtraOrdinal holders are hand-selected industry veterans possessing years of experience positively impacting the Web3 space.
"We have already planted a gold seed for the blossoming of our community by onboarding world known investors, big brains and trendsetters of the crypto space. These great minds will speak and connect freely in a constructive environment to facilitate genuine collaboration. Undoubtedly, from this will sprout unimaginable opportunities!"
Onboarding does seem to be at the heart of the project's focus. Within the Discord server is an entire collection of channels dedicated to that exactly, appropriately titled 'Ordinals Onboarding.' 
Inside you'll find education on how to set up an Ordinal wallet, how to set up a full node, collection tools and useful guides to name just a couple of the invaluable resources on offer. For newcomers eager to acquire knowledge, the ExtraOrdinal Discord is an excellent platform to dive right in and get started.
🧵Exciting news!

We are proud to announce that we were 1 of the 288 bidders who secured a @yugalabs TwelveFold!

If you missed out, you should read on & find out how YOU can co-own this historic #Ordinal with us 💥

Don't forget to RT & Like…

…alright, let's get into it 👇 pic.twitter.com/w2B1172l6x

— ExtraOrdinals (@ExtraordinalBTC) March 7, 2023
Even so, if you're a seasoned veteran who already knows the ropes well enough, WhiteCoco4U's alpha channel has been consistently producing excellent content recently. The Co-Founder regularly shares his market insights, updates on previous trades, and valuable tips on how to handle emotions while trading.
In the short space of time that the Discord has been open, WhiteCoco has become a firm favourite among the XO community for his dedication to putting some real thought behind his calls and articulating them in a way everyone can understand and relate to.
In terms of cold, hard data, WhiteCoco's alpha would have netted you 9 ETH in profit so far had you followed all of his calls. To give further context, his first call was just over one month ago on 14th February – which is rather fitting considering he now has a legion of admirers! 
The ExtraOrdinals Discord also features a valuable resource, the "Project library," for those interested in exploring other Ordinal projects in greater depth. The Project Library offers visitors the opportunity to conduct their own research on these communities, with the assurance that they are of the highest quality and have been thoroughly reviewed by the team before being published for public viewing. 
Big Plans Lay Ahead
The burning question that is asked oh so often: "But what's the utility?" The ExtraOrdinals team has a plan which they believe will put them at the forefront of the projects leading the Ordinals charge, as demonstrated by the list below:
Delivering ordinal focused Alpha and Education directly to the community members of the holders. Community members will also be assigned roles to access other resources and raffle tickets from their upcoming giveaways.

Having a strong presence on Ordinals spaces to become an influential brand in the growing ecosystem

Using their presence and credibility to bring the best opportunities for holders

Providing educational resources and alpha

Providing networking opportunities inside and outside our community

White-glove launchpad services for community leaders and creators who want to venture into the BTC field.

 Growing their treasury with strategic investments and launchpad services, which is shared with XO holders (each XO holds 1% of treasury)

Building tech solutions that are needed in the new BTC ecosystem
Are You ExtraOrdinal?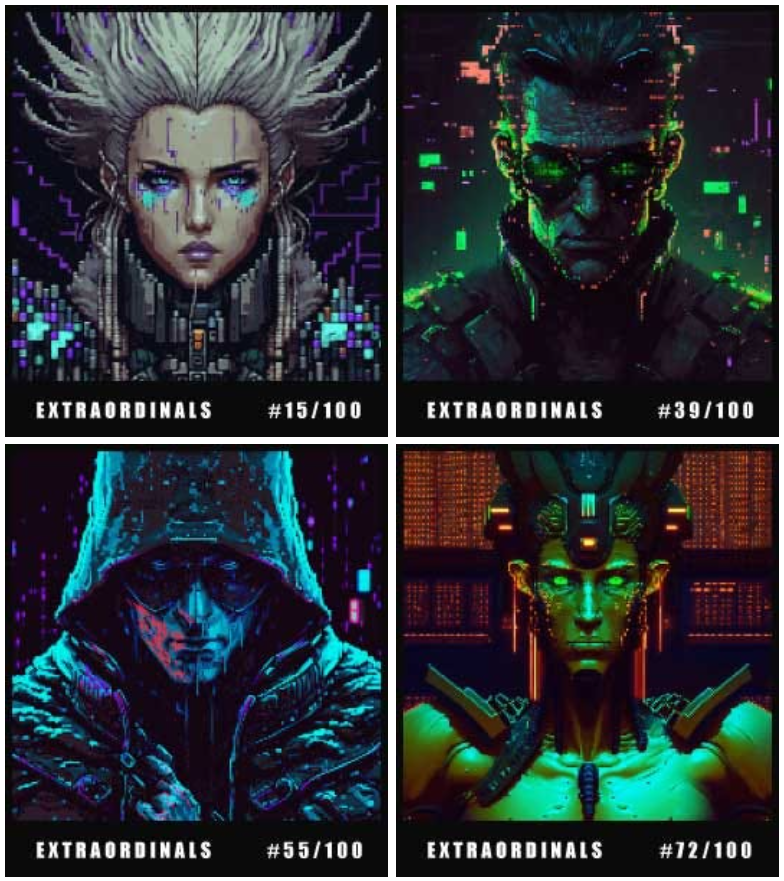 The ExtraOrdinals team is seeking brilliant minds to join them on their journey towards greatness. If you have the expertise and time to contribute, the team would be thrilled to hear from you.
"Our priority is actually to pick people to create an outstanding brand & community that will take over this ecosystem like Punks and Bored Apes did on ETH." Make no mistake about it, the ExtraOrdinals are looking for impact players with the desire to make a significant impression on the Ordinals space, and build the ExtraOrdinal brand for the long term future.
If you feel you would be a good fit for the team's vision, you can contact the founders directly via opening a ticket on their Discord server. 
Final Thoughts
What lies ahead for this group of innovators known as ExtraOrdinals? At first glance, it appears that they possess all the necessary qualities of a successful collective. However, what truly sets them apart is their determination to not solely rely on the novelty of being early adopters, or to ride the current popularity of Ordinals. Instead, they aim to build a community of 100 dedicated individuals who will work tirelessly to establish a distinctive brand.
As they continue on this path, the future for ExtraOrdinals looks promising. With their unwavering commitment and clear vision, they have the potential to create something truly remarkable!
This is a Contributor Post. Opinions expressed here are opinions of the Contributor. Influencive does not endorse or review brands mentioned; does not and cannot investigate relationships with brands, products, and people mentioned and is up to the Contributor to disclose. Contributors, amongst other accounts and articles may be professional fee-based.