Growthoid can get you more real Instagram followers and get more eyes looking at your content. It's a total game-changer. If you've been on Instagram in the past few years, you know that the platform is booming with over 1 billion active users on a monthly basis. That's epic! But, with all of those followers come increased competition, everyone is gunning for the same target audience to come out on top.
Some of the top accounts (aside from obvious mega-celebrities), like 9gag, have millions or hundreds of thousands of followers. How do they do it?
Do you think that these top influencers like Michelle Lewin, Murad Osmann, Chris Burkard, and Meghan Rienks sit around working on building their audience for 8+ hours a day manually? Or, do they find a tool to help them expand their growth while they focus on producing top-notch content and other elements of their lives? The top influencers on Instagram make it seem so easy, but there's much more that goes into organic Instagram growth than meets the eye.
We're going to be reviewing one of the best companies for organic Instagram growth: Growthoid. No bots, no automation. They provide organic Instagram growth by hand. Real people that work on your account manually.
Growthoid Review
Let's take a closer look at how Growthoid can truly up your Instagram game in terms of followers and how these followers can be of value to your Instagram account.
It's no secret that the key to Instagram success is having a healthy balance of followers and engagement, so it's vital that you enlist the right growth company that actually sets you up for long-term success with this in mind.
What is Growthoid?
So, you may be curious, what exactly is Growthoid?
Growthoid is the leading organic growth company for Instagram that actually helps to grow your real follower count without automation or bots to do the deed. It's already got a lot of traction with many people looking to boost their followers on Instagram. Growthoid offers the most powerful organic growth at affordable prices compared to other similar services on the market.
In all honesty, there's actually nothing like Growthoid. Other companies try to help you grow your Instagram by using bots or automation. Some even claim to do it manually, but when we tested them out, we noticed that wasn't true.
With Growthoid, you get a dedicated account manager that is actually working on your account. We found that to really change the game when it came to getting good and quality results while staying safe with the Instagram platform at the same time.
The ultimate goal of anyone trying to use Instagram for business or personal growth is to increase their active followers that will view and engage with their content– if you're one of those people who are looking to do this, and won't rest until you make it happen, trust that Growthoid will help you get there much quicker.
Not only that, but you'll also be able to dedicate more time and energy into producing top-quality content that your target audience won't be able to pass up.
Growthoid has already amassed a large base of happy clients that have seen amazing results since starting the service with rapid and authentic organic growth.
The problem is that there are many companies out there that promise to offer their clients quick growth solutions without being able to deliver on those results.
Moreover, many times the followers that are gained aren't of any quality– they won't engage, they won't interact with your posts, and can even be ghost followers or bot accounts.
This not only makes your account look less credible due to an imbalanced follower and engagement ratio, it can pollute your account and skew your Instagram insights making it harder to understand what posts actually perform well with your real followers.
Using Growthoid avoids all of these problems and will deliver organic followers by hand, which ensures that they are of the highest quality. Think of Growthoid as an extension of your own hand; they're working on your team and have your goal as the top priority.
Is it Really Possible to Grow Your Organic Instagram Followers with Growthoid?
Short answer- yes!
That's the best part about companies like Growthoid. They don't make empty promises and actually deliver what they offer. It's probably something you've already heard before, but remember, not all companies have your best interest at heart and are working only to turn a profit.
That doesn't mean you should discredit all Instagram growth tools out there, it simply means you must be more selective when choosing one to truly help your account.
According to their user reviews, Growthoid is a trustworthy company that actually listens to your needs, which is one thing that sets them apart. They work with you through an account manager to develop your own targets and help to grow your organic followers in your niche and within your target audience.
Once you partner with your account manager, Growthoid will work hard to interact with users in your target audience to spark their interest and get them coming to your account, viewing your content, and following you.
The process is really simple and straightforward. Using a growth service like this is an awesome way to get more eyes on your content and generate hype and engagement with your brand. This, in turn, leads to engagement, since your new followers actually care about the content you're presenting.
This is the most important thing to keep in mind– your follower to engagement rate. You've got to work with a company like Growthoid that can keep your follower rate healthy in comparison to your engagement.
Let's say you've got 50k followers, but average 40 likes per photo. The only thing this does is raise eyebrows and discredit your validity. Don't work with growth services that put your authenticity at risk. The good news is that you don't have to worry about that with Growthoid because everything is done in connection to your target audience and without the use of bots or automation.
Mega-Influencers: Brands and Celebrities
Like we said earlier, brands and celebrities in the hundreds of thousands or millions of followers make it look easy. Don't be fooled– they get outside help just like many others on Instagram. This is not to say that they're "cheating" or being dishonest. Remember, the goal of a service like Growthoid is to expand reach, connect you with your target audience, and increase organic followers that will engage with your content. It's as simple as that.
If you want to reach those higher numbers, you've got to start building your base now with a service like Growthoid. This will help you reach the level of credibility you need in order to compete with heavy-hitting, popular Instagram accounts. It's virtually impossible to gain traction on Instagram without seeking a growth company that can provide real results. Growthoid is your best bet in elevating your account to the next level.
Growthoid Features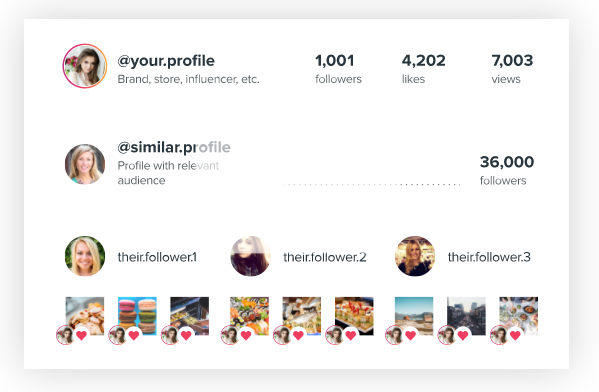 Growthoid is the best in the business because it's very no-frills, straightforward, and productive. Your account manager will work directly with you and their service is very honest and transparent.
The best thing about this is that you have peace of mind knowing that your brand is in good hands. You can truly focus on other elements of developing your Instagram account, like scheduling posts, shooting content, or researching and testing, or analyzing insights.
Here are some of the most stand-out features of Growthoid:
They listen to your targeting instructions. Nothing's worse than saying you're looking for followers between 25-35 years old in New York and seeing your account flooded with men in their 40s from India. Growthoid takes your targeting instructions seriously.
Growthoid works in any industry. Literally, any industry. No matter what your niche is, Growthoid can find followers for you in your market.
You have a dedicated account manager. Many Instagram services these days offer generic services that hardly provide what you're asking for, and, if you need help, you're left waiting with no response. Growthoid ensures you have a specific account manager that will partner with you; they care about your account and thrive on your success.
Bulk offers. If you work with multiple accounts, they can help you with bulk packages. Sweet!
14 day money back guarantee. They're so sure that you'll like what you see that they offer you a refund if you don't.
Why Does Follower Quality Matter?
You may have been tempted to work with a quick-fix company that will sell you followers straight up. This is a bad idea. As we mentioned, it's vital that you have enough engagement to reflect your follower count.
In the early days of Instagram marketing and influencing, the number mattered. Now, the most important thing is engagement. If you have 100k followers with hardly any engagement, brands or partners will not likely want to engage, as there is no benefit. If you have 10k with a lot of engagement, this ends up being more beneficial for partners, bringing more opportunities in the long run.
Review Conclusion
Even if you don't intend on partnering with brands, you need engagement to get followers interested in your content and whatever you may be offering, selling, or promoting. It's undeniable that expanding your Instagram reach to your target audience is necessary to reach optimal account status, as so many have already done on the platform.
Don't fall into the fake follower trap that is promoted on so many other service reviews. The best solution, by far, for growing organic followers is to work with Growthoid, no doubt.
This is a Contributor Post. Opinions expressed here are opinions of the Contributor. Influencive does not endorse or review brands mentioned; does not and cannot investigate relationships with brands, products, and people mentioned and is up to the Contributor to disclose. Contributors, amongst other accounts and articles may be professional fee-based.